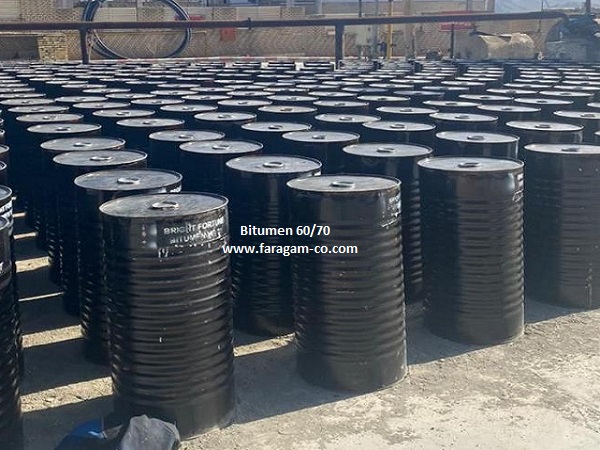 Bitumen 60/70
Bitumen 60/70 is processing from oil refinery and is a type of penetrating bitumen. Bitumen 60/70 raw material is taking from on the bottom of refinery tower and called vacuum bottom. In depends on temperature Bitumen 60/70 has different permeability from 60 to 70. Hardness and temperature relation in bitumen 60/70 depends on Crude oil and refinery specifications, which is between 6-7 mm.
Bitumen 60/70, General Applications
Bitumen 60/70, mostly used in making asphalt in road construction. Bitumen 60/70 mixing with other material in asphalt to give it a carpet ability character. Bitumen 60/70 price is not high and has good performance for filling cracks and improving asphalt quality. Bitumen 60/70 also using in polymer bitumen as improver of elasticity and softening.
Bitumen 60/70 Packing Types
Bitumen 60/70 is offering normally in steel drums. In depend on using drum weight is different from 160 to 190 kg. Bitumen 60/70 also packing in jumbo bag which is called bitubag, by 350, 700, 1000 kg net weight of product. Meanwhile, Bitumen 60/70 supplying in bulk as well.
Bitumen 60/70 Customers and Export destinations
Bitumen 60/70, based on using in making asphalt, has customers from all around the world, especially India, East and south African countries, CIS, East Asia, China.
Faragam Company producing and packing Bitumen 60/70 under international standard regulations and exporting to esteemed customers without any limitation by the best quality and competitive price.
Bitumen 60/70 Analysis
| | | |
| --- | --- | --- |
| Bitumen 60/70 | Specification | Test method |
| Specific gravity @ 25/25 cg | 1.01/1.06 | D-70 |
| Penetration @ 25 c | 70/60 | D-5 |
| Softening point c | 49/56 | D-36 |
| Ductility @25 c | 100 min | D-113 |
| Loss on heating(wt) % | 0.2 Max | D-6 |
| Drop in penetration after heating % | 20 Max | D-6 D-5 |
| Flash point c | 250 min | D-92 |
| Solubility is CS2(wt) % | 99.5 Max | D-4 |
| Spot test | negative | A.A.S.H.O.T102 |